Speed Controllers 2

I have developed an updated range of small microprocessor based (ATtiny24) speed contoller using two TB6612 dual motor driver chip for Antweight Robots. This range supercedes the previous range although it may well be possible for me to build one of the older types by special arrangement. As before because of the cost and complexity of approvals testing I am unable to sell these commercially. I am prepared to make them, at a reasonable cost, on a one off prototype basis for friends who are fellow antweight enthusiasts. Besides offering two drive channels at double the current rating of the older range these controllers provide a 5v regulated supply for the receiver and weapon servo at 1.5A. This covers the following servo's:
Saturn62, SuperTec HP Naro, Futaba FD33M, SuperTec S136L, Spektrum S75, Hitec HS81, HoBao H-101, PARK HPX F.
There is a compatibility issue with the Corona and some other receivers as they output the different channel signals simultaneously and not sequentially as with normal receivers so it is best to check with me first.
The motor drive boards can drive two of the standard microgearbox motors using a 2 or 3 cell lipo battery, four standard microgearbox motors using 2 cell lipo battey or two of the HP or 12v microgearbox motors using a 2 cell lipo battery.
See
here
for approved motor table.
Option D2 Board
This board provides two motor speed controllers at 2.4A each plus a servo output for weapon.
It plugs into the receiver on three flying leads and provides +5v (1.5A) to power the receiver and any one servo in the list above.
The unit 31 x 20 x 5 mm and all the external wires pass through the board to give mechanical support for the solder joint.
This unit replaces both the Option A and Option D boards and is supplied with JST battery and servo connectors fitted.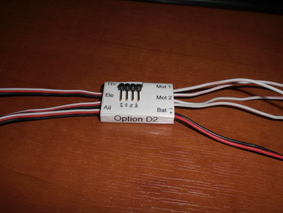 HK4Ch Compatible Module
This module is designed to work with the HobbyKing 4 Channel 2.4 Ghz receiver and has a sockets mounted on them so the receivers plug straight into the controller boards reducing the number of wires, size and weight.
The power and motor drive connections are made via a seven way connector / loom supplied with the unit.
The controller is 52 x 20 x 10 including the receiver and connector and weighs in at 13.6gms including receiver and 150mm loom.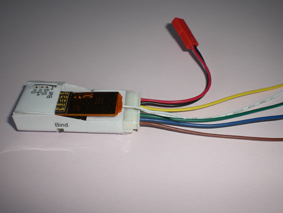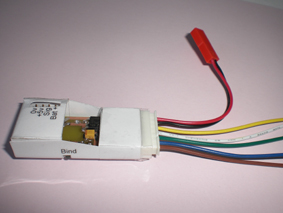 RX31 Receiver/Controller Module
This Module not only has the now standard 2.4A motor drive and 5V 1.5A regulated supply for the weapon servo but also has the RX31 receiver mounted on the board. The module is 28 x 21 x 5 mm and weighs in at 5.4 gms including the battery lead and connector. Separate motor leads are supplied which plug into the module adding a further 2.5 gms.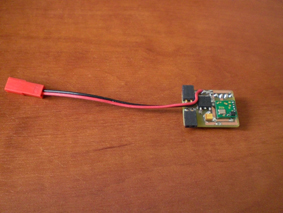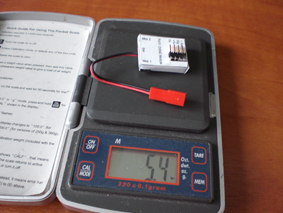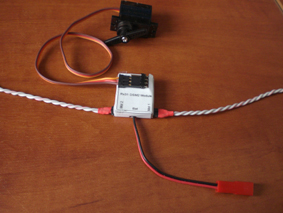 Main Page